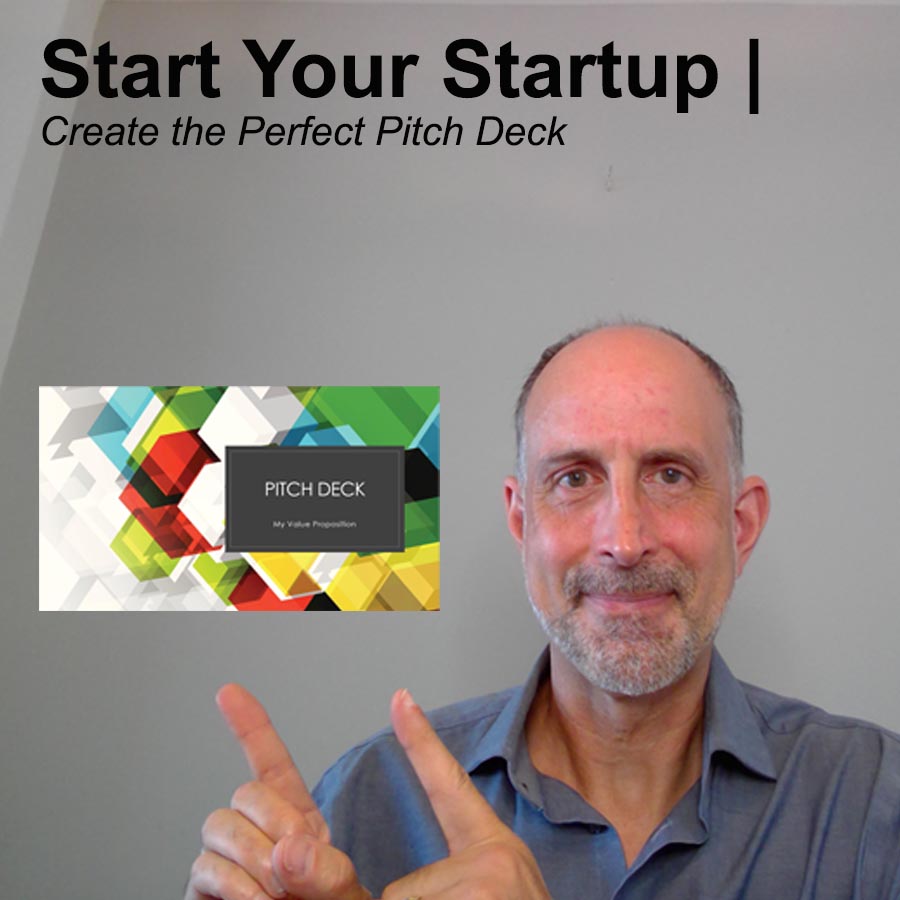 Start Your Startup | Create the Perfect Pitch Deck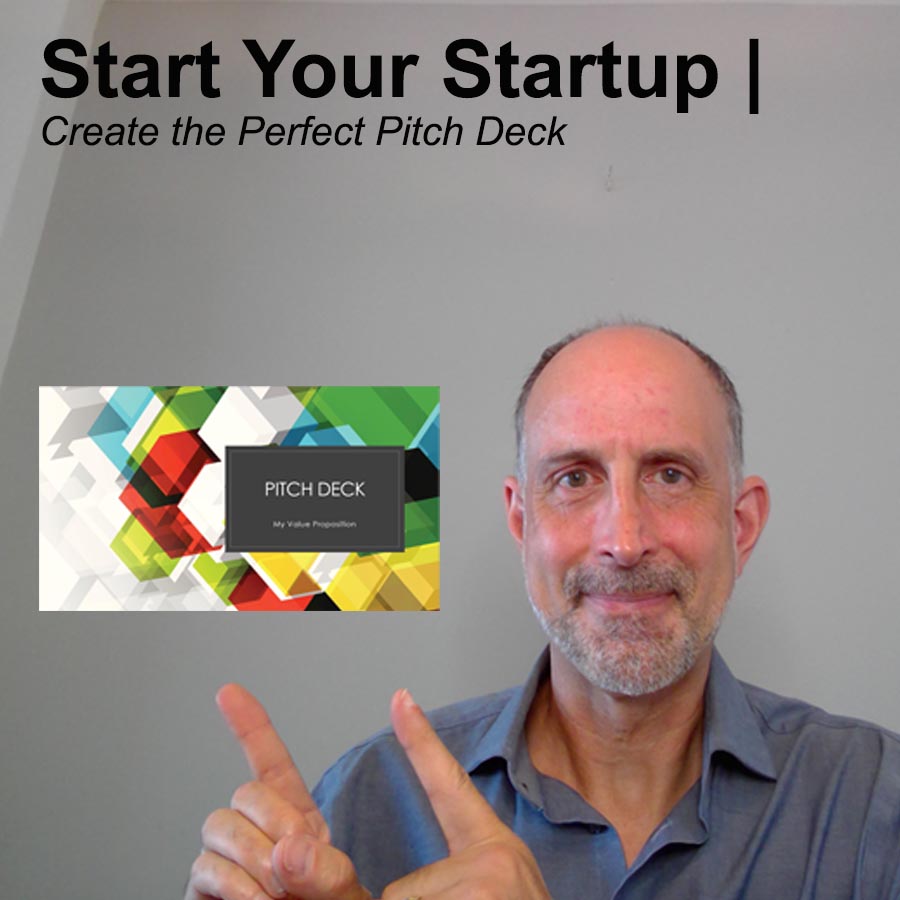 Stephen Semprevivo is a firm believer that the if your business plan includes getting capital from investors, you're going to need a pitch deck. A pitch deck is a short presentation that gives investors a concise but thorough overview of your business plan. You can make a pitch deck using any slide-building software. Prezi, PowerPoint, and Keynote are among the most common tools used.
You will use your pitch deck when you present to investors, either in-person or virtually. Your pitch deck needs to be powerful and thorough. The goal is to get investors interested in learning more about your company by seeing its value. You likely won't get a firm "yes" after showing investors your pitch deck. If all goes well, you will get another meeting with investors to dive deeper into your business plan.
What to Include in Your Pitch Deck
Research indicates that investors spend less than three minutes reviewing a pitch deck before deciding to move forward with a startup or say "no thanks." While this number can go up or down, depending on how many pitches investors receive, assume that an investor won't spend longer than three minutes reading your pitch.
Keep your pitch deck to 10 – 20 slides. For face-to-face pitches, the fewer slides, the better because you will be there to fill in the gaps of information. If you are sending your pitch deck to investors to review on their own, you may want to include additional slides that provide more information.
Here are the slides you need to put in your pitch deck in a recommended order.
Slide 1: Cover
First impressions are everything. Your cover slide might be sitting on the screen for several minutes before your meeting gets started. Use the space to provide important information about your company, including your logo, founding team, and contact information (email, phone number, website, etc.). Add a catchy tagline that highlights what your business is all about.
Slide 2: Identify the problem
Keep this slide concise and limit it to one problem in the market. Don't overwhelm your investors with a list of problems your customers face. Your problem statement should be easy to understand and relatable. It should be something that investors can identify with, either because they have personally experienced it or recognize the value of solving the problem.
Slide 3: Explain the solution
Your solution slide should be clear and concise, articulating your solution along with why now is the right time to deliver it. Your solution slide should also convey how you will scale your startup, especially if you are in the tech space. Scalability is vital for investors who want to see how their investment will yield greater returns.
Slide 4: Clarify the market
Investors typically look for businesses that will give them a 10X return in the next 5 – 7 years, so they will want to see that your business is in a growing market. Some investors may only want to be in markets that are $1 billion or more. Others see the value in investing in smaller markets for a higher ROI. Use research and data to articulate where your company fits in the market so that investors can decide whether you are the right company for their next venture.
Slide 5: Explain your product
Notice how your product is halfway through the deck. Include images of your product in action and reviews from happy customers to highlight your product's use case.
Slide 6: Business growth
If your business has grown over time, include a graph showing it. Use metrics like revenue, client acquisition, and anything else that demonstrates how far you have come since you were first established. If your business is still too new to have growth, leave this slide out because it won't benefit you.
Slide 7: Team
Introduce the founding team, highlighting what each member brings to the table. Include relevant education and experience that gives investors confidence in your ability to succeed as a company.
Slide 8: Competition
Detail what gives you a competitive advantage and how your brand compares with the competition. See Airbnb's slide deck below for a great example of how to do this effectively.
Slide 9: Financials
Resist the temptation to overpromise on this slide. Be realistic about your projections for the next 3 – 5 years. This slide can be a high-level overview. Put more detailed information in a spreadsheet and distribute it to investors to review later.
Slide 10: Your ask
This is where you make the big ask for how much money you are seeking from investors. It's a good idea to put a range, as many firms have limits for how much they can invest and will not move forward if they see a number significantly above their cap will For example if you want $10 million, list that you are seeking $7 million – $10 million
Review these examples of pitch decks that resulted in millions of dollars from investors.
Launchrock
Launchrock's cover slide says as much as the next 14 slides in their deck. With minimal text on each slide, this deck is clearly designed to be presented in person, keeping investors' focus on the person speaking instead of a heavy-texted deck.
Airbnb
The pitch deck from Airbnb follows the outline above. It is clear and concise, giving investors all the crucial information they need to decide that this is an obvious choice for their next investment. Their competition slide highlights where they fit in the market and who their direct competitors are.
The Waypoint
Each slide includes data points that show how The Waypoint fits in the market. The first few slides clearly articulate how the company solves the problem of booking a boat slip online.
Have Someone Review Your Pitch Deck
Find a mentor who can deliver honest, actionable feedback about your pitch deck and ensure that it presents your company to investors in the best possible way. Practice your pitch in front of multiple people before going into a meeting with investors to ensure you are relaxed, calm, and ready to answer any questions they have about your business.
As a successful entrepreneur, Stephen Semprevivo is always looking for new businesses to mentor. If you have an idea for a startup and are ready to take the next steps, apply for the Stephen Semprevivo Startup Scholarship. Two student entrepreneurs will receive a $2,500 scholarship along with mentorship and guidance. Learn more about the scholarship program and apply today. Remember, the best time to start a business is NOW!